Now here's what you can do with an old range of cowsheds!
There used to be concrete and cattle pens and ugly modern farm buildings over the whole area where the orchard now is.
The concrete was taken up and the pens and sheds removed. Then two lovely houses were made out of the original old cowsheds, which are both rented out.
The outlook of the new houses is transformed by the apple orchard that looks as though it has been there after only just a few years. Many different and old varieties of British apples were carefully chosen for eating, cooking, juicing and storing. Blossom in the spring, and extraordinarily different fruits in the late summer and autumn. The differences are a revelation, an education.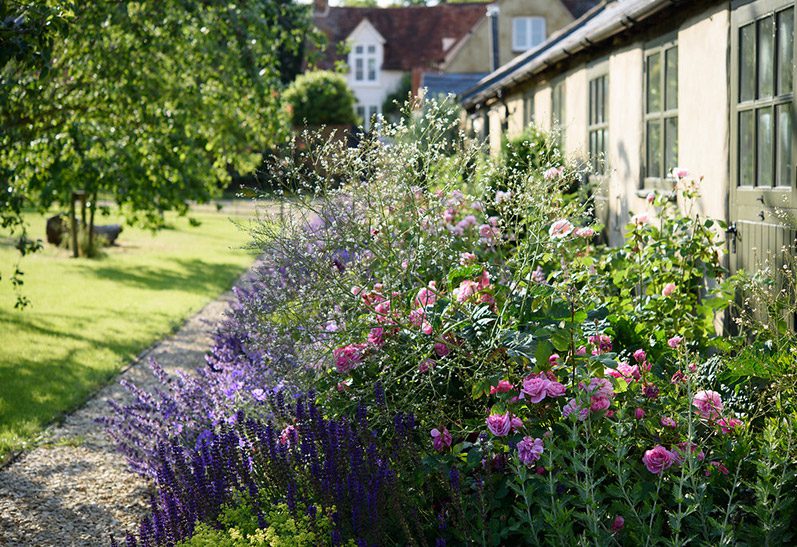 Along the whole front of the houses a wide and generous border was designed to give a really deep, sensuous and luxurious garden full of colour and scent all year round. The depth of the border allowed for paved spaces for tables and chairs, so that one can literally sit within the border, and be private and secluded and immersed in the flowers and plants, and bees and butterflies. This has worked out very well. The aspect is to the south, it is deliciously warm and even on a breezy day, being within the border is cosy, inviting and intimate. In front of the border is a wide gravel path using fine gravel which gives a different accent underfoot to the normal sized gravel used in the driveway.  
I set out to play and make a harmony here, and I think this garden is most successful in this. Also a very important consideration was low maintenance. By dense planting of robust varieties, carefully chosen, just two seasonal visits are sufficient to keep this border, which is a complete garden in itself, in good order.